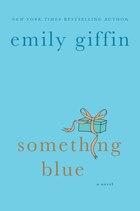 Well, I just finished the second book in this two part series. I have to say that in the beginning I was captivated but it felt like I was rereading part of the first book. Although, that wasn't a bad thing because in this book the main character isn't the same person.
Without giving away too many details, Rachel was the main character in Something Borrowed. She was the best-friend to Darcy. She "borrowed" Darcy's fiance (which you can read from the cover!!!). In the second book Darcy is the main character and it tells about what happens after Rachel borrowed Dex (the fiance).
I loved this book too! For many different reasons than the ones I liked Something Borrowed. I liked the finality to this book. I don't think there will be another one but I enjoyed it and was sad at the same time that that was it!
Please read this book... but not until you read Something Borrowed. Although you could read it... I think it would make much more sense to read it after.
I actually found out that my sister has been reading these books too! Too funny, maybe we have more things in common than I first thought.