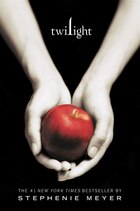 Well holy sweet-bakeapple-jesus! That's a Newfoundland saying for I cannot believe what just happened.
I DEVOURED THIS BOOK! I read for no less than 2 hours at a time. I'm addicted to this series like addicts are to their drug of choice. This may be classified as a book for "young readers" but I cannot think of a single reason why anyone wouldn't like this book, even men. It is a love story but it's also so much more. I usually hate books about vampires and scary/harry things but this one is vastly different.
I cannot encourage you enough to read this book if you haven't already.
I finished Twilight last night and I'm already 100 pages into the second book. This is soon going to be a problem because I only own the first two... this means I'm going to have to buy the last two very soon. I've already checked out the prices at chapters and I think on pay day I'll be placing the order!
Enjoy!