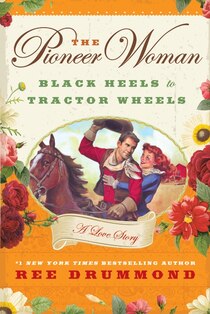 Oooooooooh-Kay Ree... could you pick a longer title for your next book?! LMAO!
So this might just go down as my favourite read of all time for two reasons...
1) I love ChickLit when it's well written... and this is a really well written book. Not dry, not drawn out... just perfect
2) I love non-fiction... that's right, it's a true story.
So, I should tell you a little about this story. Way back when I started university and moved away, I found myself wondering what to make for dinner (which we call supper... and so does Ree!). I found a lovely little blog that had some recipes on it... it was called the Pioneer Woman Cooks and at the time it was a separate blog from her main blog that told about her life.
She's a city girl. Grew up on a golf-course... daughter of a doctor... went to college... became a vegetarian... you got the picture... right? Well, she met a cowboy... a cattle ranger that loved beef. She moved to a secluded farm, married the farmer, eats beef, and raises their four children on the farm... all the while cooking gourmet meals, homeschooling, and photographing her surroundings. She's like a super-human, super-mom and that's the way she loves it! But... she's oddly down to earth and you can tell from her blog, the way she writes and everything.
The book is about how she met, fell in love and married her husband... who she simply calles Marlboro Man. I read elsewhere that his name is Ladd Drummond but never once does she ever call him Ladd.
I'd suggest visiting her blog. For the food, for the pictures, for the family and for the great reading. P.S. she has a load of giveaway's too :)
Oh yeah, she also has another website called Tasty Kitchen... it's full of submitted recipes... like a giant cookbook for everyone. Seriously has everything... it's called a cooking community. Seriously, check it out too!
Anyway, pick up this book today for great summer reading. Also check out her websites as they are just awesome :)