Have you ever read a book that wasn't terrible but wasn't great either? That's what I think about the book "the Gatecrasher" by Madeleine Wickham. It's a take it or leave it book. At points I was rather bored and at other times I was roaring in laughter. The worst part about the book is the ending is unresolved. Atypical of her style altogether. Lets just say this book won't be a movie any time soon.... well not a good one anyway!
It took me a long time to get through this book. I was satisfied with reading only 4-5pages a day... usually I'm transfixed by books and devour chapters at a time, but not this one.
Did I mention that Madelene Wickham is the real name of Sophie Kinsella.
I only rate this book as a 3/5... 60% I mean that's ok right. So if your bored and want something to read this may be a good book, but I've certainly read better.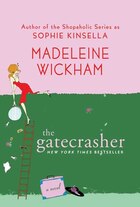 Next on my list is "Cocktails for Three" and so far it's hilarious! Much more the style you think about when you hear the name Madeleine Wickham.