Well I've been clipping right along in the book category lately. I have devoured the book Multiple Bles8ings by Jon & Kate Gosselin and Beth Carson.
It's largely an Autobiography of Kate and her life since conception of sextuplets. I really enjoyed 95% of the book. The only part I wasn't a big fan of was the last chapter. It was really faith oriented and although I consider myself Christian I thought it was a little pushy for the previous feeling of the book. I mean I would read a religious book (and have!) but I didn't think that this book would be like that. It was published by Zondervan so I knew that I should expect religious views etc but the first 90% of the book just wasn't like that.
I have to say though that if you followed the show at all or even if your just curious about what life may be like with 8 children, twins and sextuplets... less than 3 years apart... this is a great read! I'd recommend it to everyone. I still gave it a 4.5/5 in my ratings
I just loved the light-heartedness of the book and it was really well written. I could almost hear Kate narrating in my head as I read lol!
So, pick it up at your local library, bookshop, yard-sale... whatever! and read it today.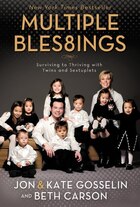 My next read is... Nights in Rodanthe by Nicholas Sparks... my first adventure into the sappy romance novel! We'll see how it goes.