I haven't updated my Reading List in a long time!
School was finally finished on Monday and I've been trying to finish up my hours at my summer job. I've been doing a lot of sewing so not much blogging has been going on.
Anyway, I have two books to talk about... one really good and worth every penny paid for it and the other was the kinda bad you had to finish. Just like one of those cheesy made for tv movies not really good but you have to keep watching anyway...
I'll start with the really good one... Love the One You're With by Emily Giffin.... I loved the idea behind this book. A happily married woman runs into her ex and he clearly wants her back. What does she do? Normally I'd let a little slip but for you... just go read it!

The other book... it's called Big Boned by Meg Cabot. It is a book in a series but I haven't read any of the others. Some of the details were alluding to other books but I didn't have that info to catch on to the reference. It wasn't a terrible read, It's a "Chick-Lit Murder Mystery" and I think those are two things that (IMO) shouldn't be mixed. You can check it out if you like cheesy murder mysteries and all lol!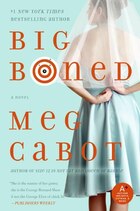 I don't know what to read next! I have 10-15 novels sitting on my shelf that I've yet to touch and with my $$$ in such dire straights lately I'll be reading those before purchasing any new ones!!! I may even read one of the boy's books... he has the Dexter novels there and I love the show... I may read them to see how twisted they are in print too!