Well I just finished 'have a little faith' by Mitch Albom. It was confusing and dry until you hit the middle... then it flowed beautifully. I usually love true stories and I thought this wouldn't be an exception... I give it a 3.5/5. It wasn't my most favourite read but I'd definitely recommend you read it.... just for the insight.
It is inspiring and touching. It's also short, choppy and a little disconnected. I would have liked to know more about
I Am My Brother's Keeper Ministries
and more about the Reb.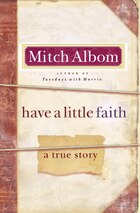 One thing I will say is 10% of proceeds from the book go to a charity "
A Hole in the Roof Foundation
" Even if you don't buy the book (if your able) you can donate directly on the link above.
This book left me with mixed feelings just like '
five people you meet in heaven
'. It was an ok read too.