Push... such a short and phenomenal book!
Incest, rape, neglect, abuse, illiteracy, child-abuse, teen-pregnancy, African-American culture, NYC, welfare, ABE, HIV, AIDS...
these words are all profoundly represented in this novel. I cannot say how much I enjoyed and was disturbed by what was written in those pages. I cannot say I connected with the main character, Precious Jones as none of what happened to her ever happened to me. However, I can empathize with her character from a teacher's POV.
I would recommend this book for everyone who wants a short but meaningful read. It's only 150 pages (or so) but it's really a great read.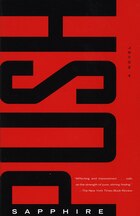 I usually read frilly-girly-feelgood stuff. But this was different. I really enjoyed reading this book. I know that it's been made into a movie too. I may watch it at some point. We'll see... but I'll hold this book near and dear as a favourite for some time to come.